Gràcia is a very eclectic, unique neighborhood of two-story houses, sunny plazas, and a bohemian atmosphere, partly due to its large population of students and artists.
The neighborhood extends northward of the Passeig de Gràcia and Diagonal, and its village-like ambience is due to the fact that it was once its own separate village outside the walls of Barcelona. You'll find streets lined with workshops that date hundreds of years back, and instead of monuments you'll find charming neighborhoods and intimate squares, living testaments to the ordinary people who live and lived here rather than stone statues of famous people.
Nice squares in Gràcia
The Placa del Sol and Placa Ruis i Taulet (which has a distinctive clocktower) are among the prettiest of the squares to stop at. Stop at a cafe here and enjoy the atmosphere as you stroll through Gràcia. Or time your visit to coincide with one of the annual fiestas here.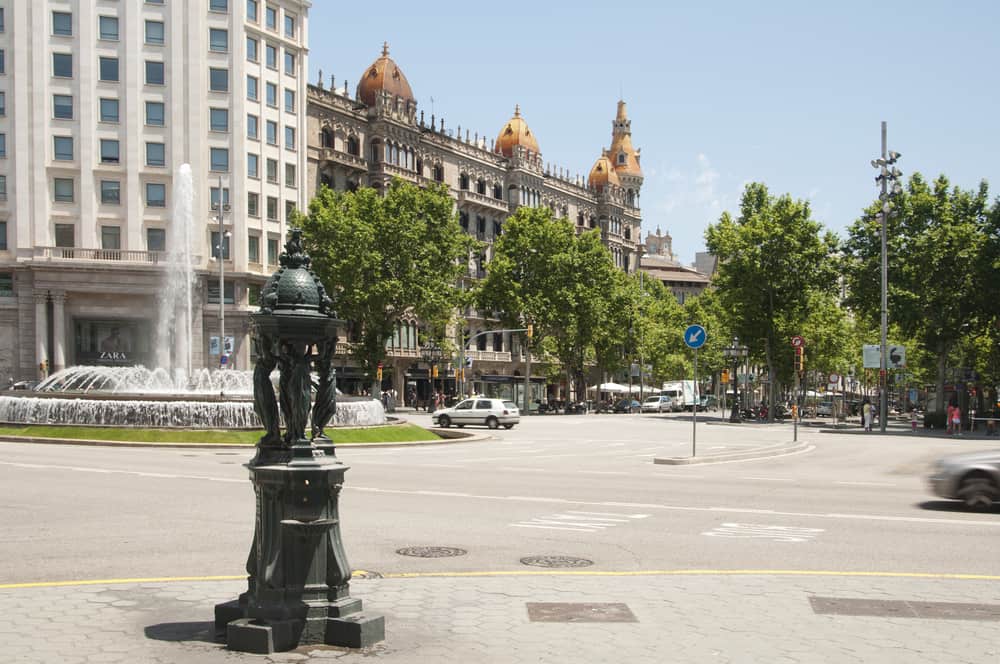 Where to stay in Gràcia
Hotel Meliá Barcelona Sarrià
Hotel Meliá Barcelona Sarrià is located only a block from where Avinguda Sarria and Avinguda Diagonal meet, right in the center of the business district.
This hotel is rated five stars, and has been for more than a quarter of a century. While many rooms were renovated in the 1990s, though, some of them are starting to look a little worn and in need of attention, so don't expect perfection despite the rating.
You'll find comfortable and well-furnished rooms in relaxing neutral tones, making the Hotel Melia Barcelona Sarria an excellent choice for relaxation after a long day sightseeing. There are two restaurants and a bar here, as well as babysitting so that you can go out and enjoy the nightlife while knowing your children are safe.
The Acropolis Guest House
The Acropolis Guest House is less expensive and more bohemian. It's very quirky, with crumbling columns and peeling paintwork, but possesses an odd charm for those who want a hotel that's also an experience.
You'll find pet accommodations here, but if you're allergic, you might want to bypass it. The kitchen is communal, as is the overgrown garden. Not all bathrooms are private, so you may wind up sharing. This isn't as terrible as you might think; the hotel is spotlessly clean. The best room in the Acropolis Guest House has a terrace with excellent views of the city.
Where to eat
For authentic Catalan cuisine, try the Via Veneto, but be certain to make your reservations. With consistently tasty cuisine and a generous dose of class, this is an excellent restaurant that somehow always falls under the radar when people point out the best places to eat. But the restaurant is well-patroned by regulars and visiting sports stars, so it doesn't really worry about the tourist business it loses.
Via Veneto is known for serving excellent game and wild fungi cooked to perfection, and you'll get a lot. Their signature duck dish is well-known, and the wine list is legendary, numbering around 10,000 bottles in their own bodega. And your dessert might be something as ordinary as cheese, or as exotic as cinnamon ice cream.
Map of Gràcia in Barcelona