With caged lizards, enormous rose and flower bouquets, decorated Chinese buildings, working artists, street cafes, mimes, prostitutes, horse-drawn carriages, and living statues, Las Ramblas is a vibrant and living part of Barcelona.
Prices here are steep, but if you want to have lunch at an outdoor cafe with atmosphere, this would be where to do it.
Las Ramblas – night and day
Las Ramblas is really two neighborhoods. One during the day, where you can walk reasonably safely with the kids, and then nighttime Las Ramblas, where things aren't so child-appropriate.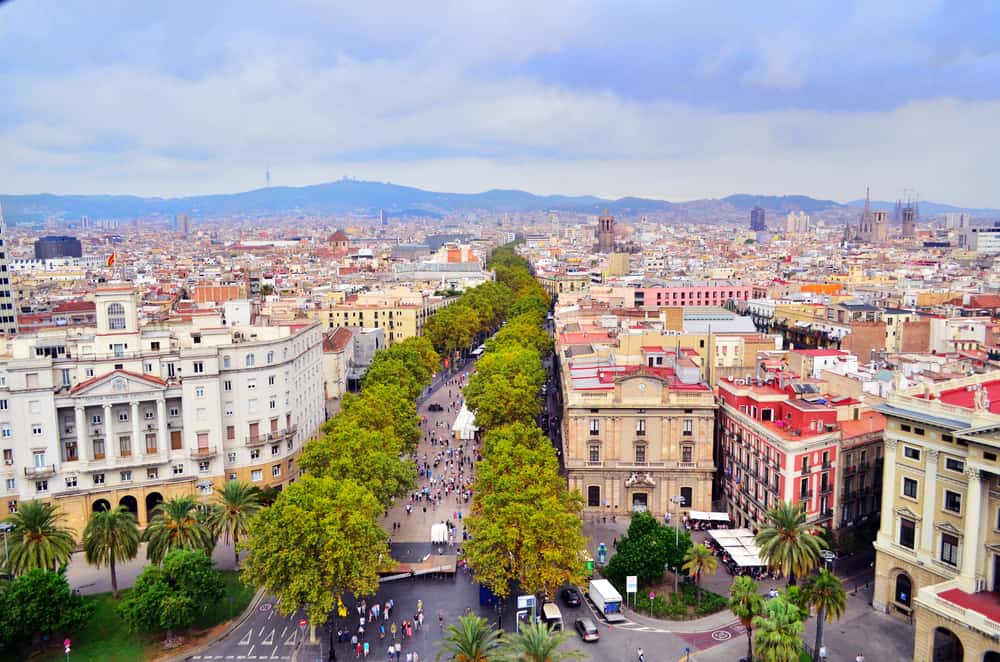 During the day, you should ensure you keep a close eye on your wallet or purse, and a tight hold on your child. There are thieves and pickpockets here. But you'll see things in Las Ramblas you won't see anywhere else in Barcelona, like outdoor animal stalls selling exotic birds and lizards and street markets with unique offerings.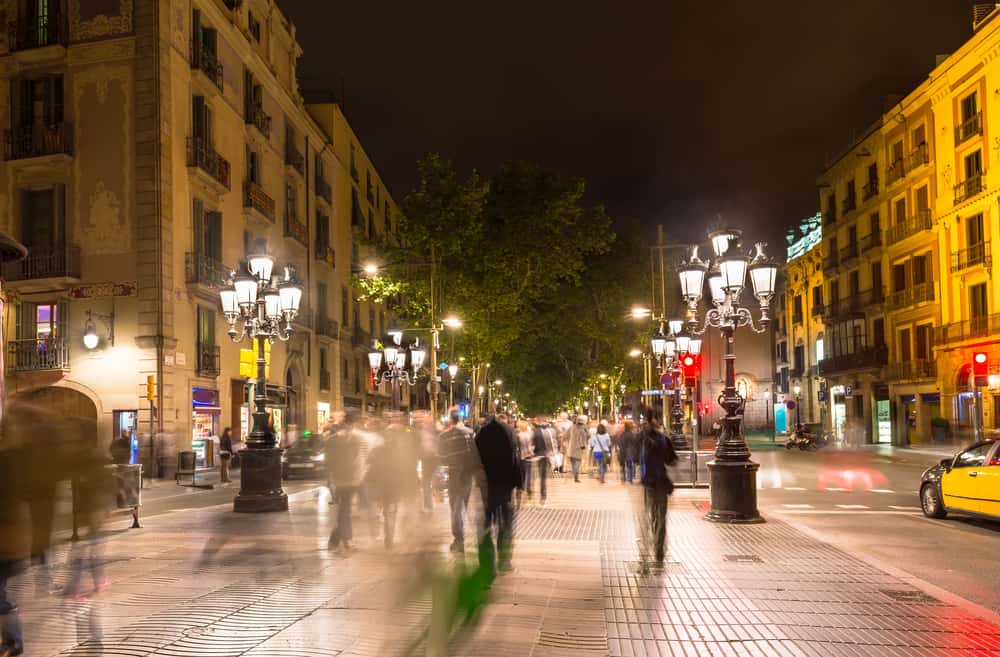 Con artists are also pretty common here, so keep an eye out for them. Most street games you'll see here are not easy marks. At night, the prostitutes come out, and no, it's not legal in Barcelona. But the police don't pay a whole lot of attention to Las Ramblas either. A ploy to watch out for: prostitutes surround you and ask if you want their business, then while you're distracted with one another picks your pocket.
Don't carry large amounts of cash here. And don't think that a travel belt, carrying money in your front rather than back pocket, or even carrying money in your shoe is going to keep it safe.
Getting around Las Ramblas
The easiest way to get around Las Ramblas is not rambling around. Rather, consider getting a pass to the tourist bus. You can get on and off at will while your pass is valid, and you'll even get a coupon book for discounts on many of the best attractions here. You'll find the tourist buses at the top of Las Ramblas.
Where to stay
Le Meridien
If you want to stay close to Las Ramblas, try Le Meridien Barcelona. It's convenient to the metro, cabs, and the cruise ship docking area, as well as only steps away from Las Ramblas.
The rooms are excellent, with plasma TVs, comfortable bathtubs near a second TV, excellent beds and pillows, and a friendly staff. Le Meridien offers lots of little special touches that will delight you. Make certain that you verify they DO have air conditioning on when you arrive, if you think it will be necessary. They don't turn it on until fairly late in the spring.
It's a pricey hotel, not just in room charges but also in bar and restaurant charges.
Apsis Splendid Hotel
The Apsis Splendid Hotel is another nice hotel, and not so expensive as Le Meridien. Rooms are spacious and clean, the television has plenty of channels for all languages, and the air conditioning is superb, making it a perfect place to relax after a long day of exploring Barcelona.
The Apsis is very convenient to Las Ramblas, near Placa Universitat. If you walk from here to Placa Catalunya then north up Pg de Gracia, you'll find tons of restaurants, cafes, and places to shop. For breakfast, consider going out to nearby Mistral bakery, where you'll find excellent coffee and pastries.
The rooms in the back are a little smaller with less view than those in the front, but they are much quieter and can make a real difference to you if you're a light sleeper.
What to do
One of the world's most excellent food markets, La Boqueria, is located on Las Ramblas. It's the largest market in Europe, and includes some of the best bars and cafes in Barcelona. This is where to go if you want to know what's on the cutting edge of Mediterranean cuisine.
La Boqueria has been in roughly the same spot for hundreds of years, started long ago by Catalan peasants coming into town to hawk their wares. In 1914, the market had more or less the same shape it does today, with five wings and over three hundred market stalls.
The offerings change from season to season, and even if you don't want to buy any food, the riot of colors and smells is more than worth coming for. Candy colors and fruity aromas dominate durign the spring when strawberries adn peaches are ripe, and autumn sees the colors tone into yellows, oranges, and reds when fall crops are in.
One area, the Isla del Pescado (Island of Fish) deals in seafood, and includes an incredible variety of fish: giant tuna, prawns, grouper, scorpionfish, live crawfish. Visit early in the morning for the best selection and the best opportunity to see this market in action. Breakfast at Pinotxo is where you can meet many of the city's most famous chefs before they do their daily shopping.
Visit stalls toward the back for the better prices, and often the better quality and selection.
Street View of Las Ramblas in Barcelona