In 1850, Ildefons Cerdà developed a new plan for Barcelona's burgeoning expansion. Outside its complex of medieval streets, Cerdà planned an open grid structure of perpendicular streets, a checkerboard of city blocks allowing for residences, communal gardens and yards, and everything that makes a city.
While Cerda's dream of residential blocks built around a central yard shared by all the houses never happened, he did create a modern, light-filled area for Barcelona to expand into.
Eixample, Catalan for "Extension," is a district divided into the Dreta de L'Eixample (the Right Extension) and the Esquerra de L'Eixample (the Left Extension). It holds many examples of Modernist architecture, largely because its development coincided with the growth of the Modernist movement.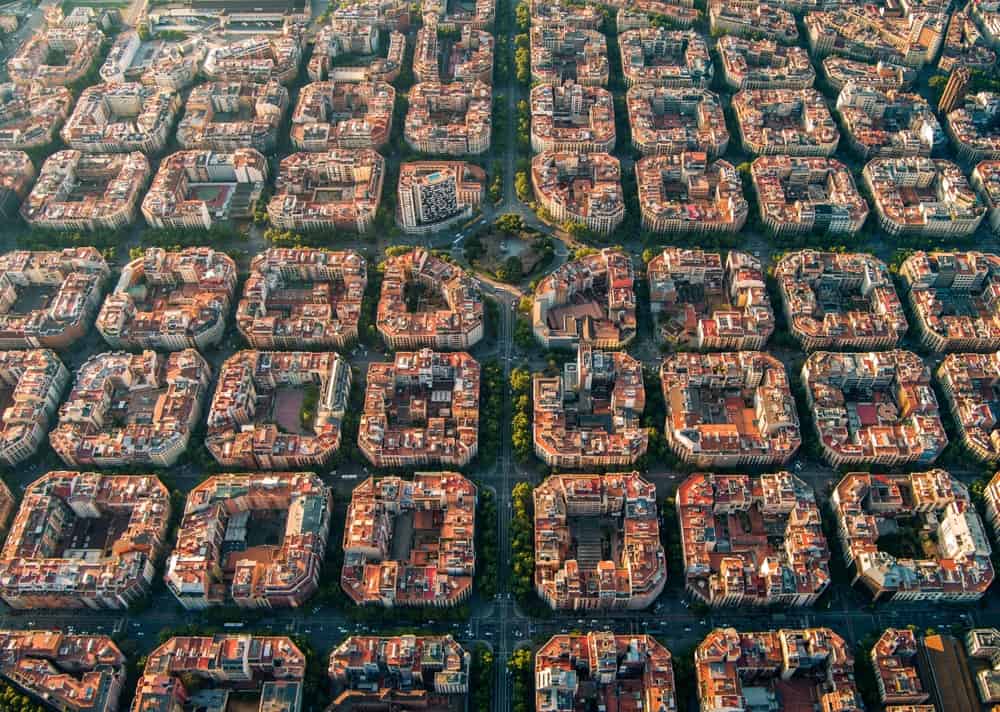 Buildings by Antoni Gaudí include the Casa Mila (or La Pedrera) and the Sagrada Família on the Passeig de Gracia. Near the Passeig is a block called the Illa de la Discordia, so called because of the visual clash between buildings. The Spanish name of this block is Manzana de la Discordia – Manzana means both "city block" and "apple," and if you know your Greek mythology, you'll get the pun.
The Eixample grid system
Everywhere the Eixample is characterized by its long straight streets arranged into a grid of wide avenues and short square blocks. Cerdà considered this to be ideal for traffic and transport, as well as bringing much-needed sunlight and ventilation into the center of a city.
Periodically, you'll find one of Cerdà's characteristic octagon-shaped blocks, where streets widen at each intersection for greater visibility and ventilation. Though Cerdà dreamed of a livable city populated by the poor as well as the rich, many of his ideas were not put into practice, resulting in narrower streets and fewer gardens than he wanted as well as a wealthier class of inhabitant than he had hoped.
The Passeig de Gracia links Playa Catalunya with the old town of Gracia. Avinguda Diagonal, cutting through Cerda's grid diagonally, and Gan Via de les Corts Catalanes are the other two truly important streets in Eixample.
Not all areas in Eixample are fresh and modern. There are decaying buildings with poverty-stricken tenants as well as a fair speckling of crime, so don't let your guard down. Adding spice to the mixture is the "gaixample," an area of Eixample that is primarily gay and lesbian.
Where to stay in Eixample
Avenida Palace
Behind a pair of towers, you'll find the modern Avenida Palace. This excellent hotel sits in a neighborhood filled with upscale shops and apartment buildings, and has an old-world charm despite its modernity.
The Beatles stayed in this hotel in 1965, but today more ordinary people fill its rooms. All rooms are soundproof and have comfortable beds and well-equipped bathrooms. Amenities also include two restaurants and a bar, a salon, babysitting, and a currency exchange on the premises.
The Ritz
For just a little more, you can stay at the Ritz, the most architecturally distinguished hotel in Barcelona, and hey, it's the Ritz!
The Art Deco Ritz was built and decorated in 1919, and has been remodeled fairly recently. If you want to celebrity-watch, its cream-and-gilt neoclassical lobby is a great place to do it from. The guest rooms are all you might hope, with high ceilings and rich furnishings in different styles. Regency furnishings and ancient-Rome-inspired mosaic baths blend better than you'd expect.
You'll have all the amenities you expect here, including three restaurants, a fitness cednter, and on-site babysitting.
What to do
You'll never run out of things to do in Eixample. The Quadrat d'Or (Golden Triangle) is bordered by the streets Bruc, Aribau, Arago, and the Diagonal, and is a delight to walk through because of its excellent restored turn-of-the-twentieth-century architecture.
In these hundred or so city blocks, you'll find Gaudí's La Pedrera, the Manzana de la Discordia, and the shopping district of the Passeig de Gracia. You can find information on everything at the Centre del Modernisme at the Casa Amatllet, Passeig de Gracia. Pick up a free map for the Modernist Walk, or buy an explanatory book that includes discount coupons to many of the local attractions.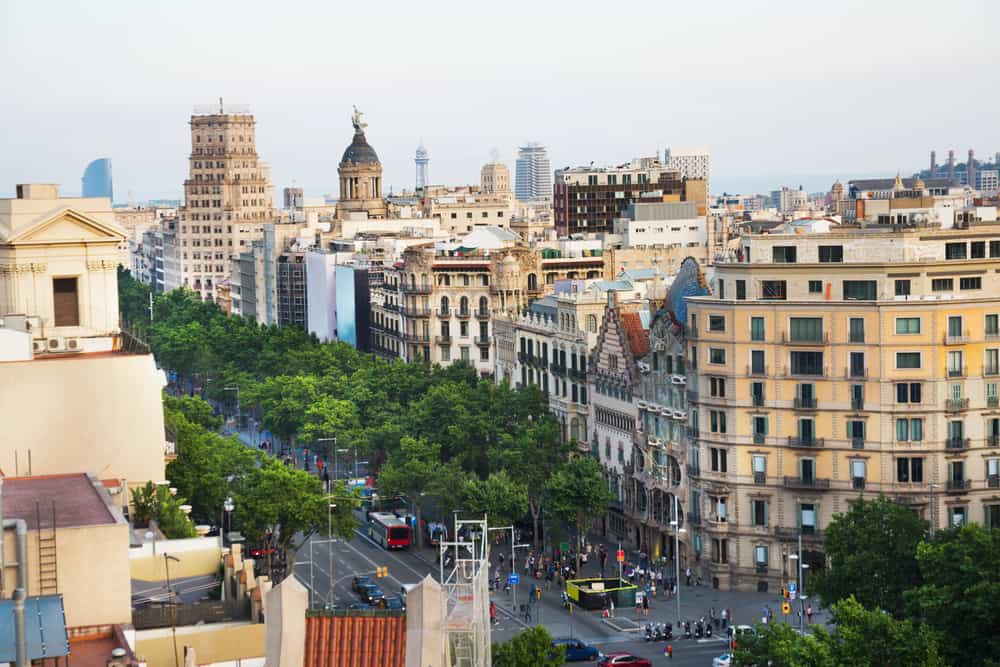 La Sagrada Família
If you only have time to see one thing, go to see La Sagrada Família. It is an almost gluttonous feast of Art Nouveau meets religion, started by Gaudí in 1882 and not yet finished by his death in 1926. This temple became his obsession in the last years of his life.
The Josephines, a right-wing faction of Catholicism, decided that the decadent city of Barcelona needed an atonement temple so inhabitants could do penance there. Money was no object, and there was no deadline. And Gaudí himself agreed with the Josephines. Art ran amuck, and the resulting masterpiece is drenched in symbolism.
It was conceived of as a catechism in stone, designed after a Gothic church with transepts, aisles, and a nave. Lofty towers soar above it, as high as 558 feet (nearly as tall as Barcelona's tallest modern buildings).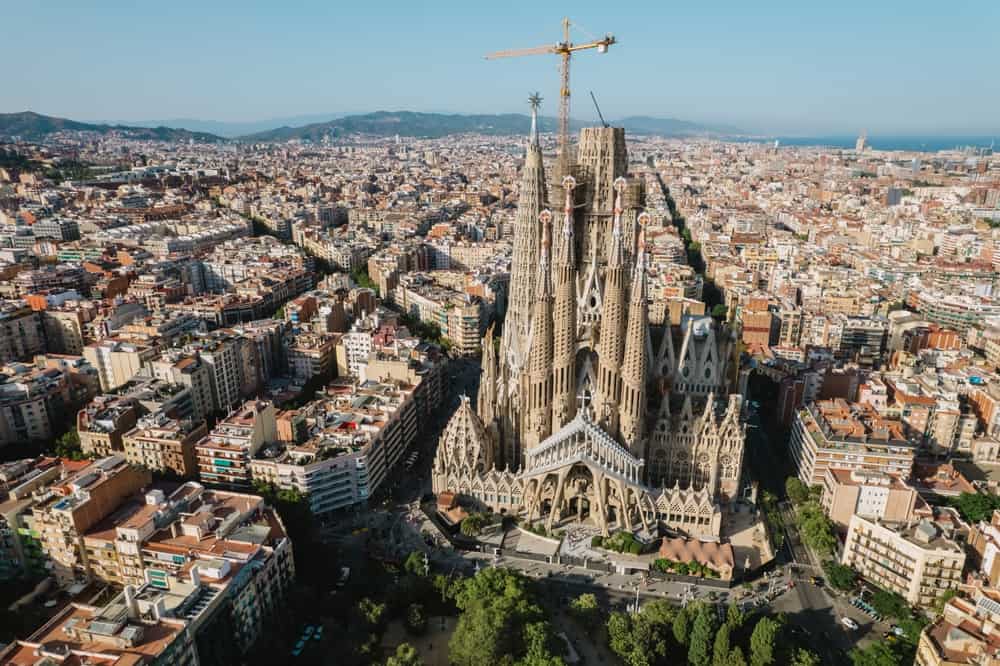 The two completed facades represent the Nativity (on the Carrer Marina) and the Passion (on the opposite side). The two are counterpoints to one another, with the Nativity a fluid and detailed work with flora and fauna, the Holy Family, the Tree of Life filled with nesting doves, flute-playing angels, and many other things. The Passion, on the other hand, is stylized and elongated, depicting Christ's death from Last Supper to crucifixion.
Today, work continues on La Sagrada Família, based on models and plans Gaudí left behind. It is expected to be completed by 2026, the hundredth anniversary of Gaudí's death.
Appropriately, Gaudí himself is here, in the crypt under a simple tombstone. He died on his way to Vespers when run down by a tram. His crypt contrasts with the rest of the church, and is the first part of the building that was completed.
Map of Eixample in Barcelona