In the late 12th century, Chrétien de Troyes wrote the first French versions of the Arthurian legends down. Many of them the same stories that are told today. With this kind of native son, Troyes cannot help but delight with its fairy-tale beauty and vibrance.
Troyes is the historic capital of the counts of Champagne, and is nestled within a loop of the Seine. It is a network of pedestrian streets, high timber houses, and wonderful places like churches and museums to visit. It was also one of the first historical preservation projects in France.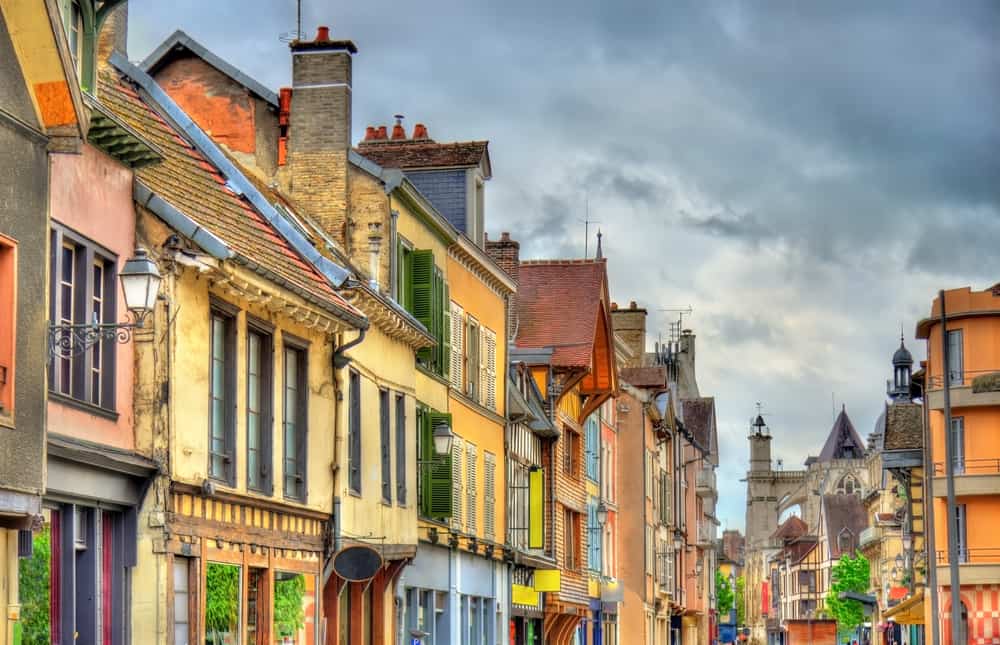 Sadly, there were several major fires over the years. Due to this as well as modern development some jarringly modern sections in this lovely town have been created.
Dampierre (running into rue St Denis to the east) is the primary street through the town. It divides on the north side the cathedral quarter from the southern commercial district, with its vibrant shops and restaurants.
You'll find excellent information as well as discount museum passes for sale at the tourist office.
What to do in Troyes
There are two Troyes. A quiet Troyes for the history lover, and an active exciting Troyes for those who love the French night life.
The Cathédrale Saint-Pierre Saint-Paul
If you are looking for history and art, the grand Gothic Cathédrale Saint-Pierre Saint-Paul should be among your first stops. You will find it near the east end of rue St Denis.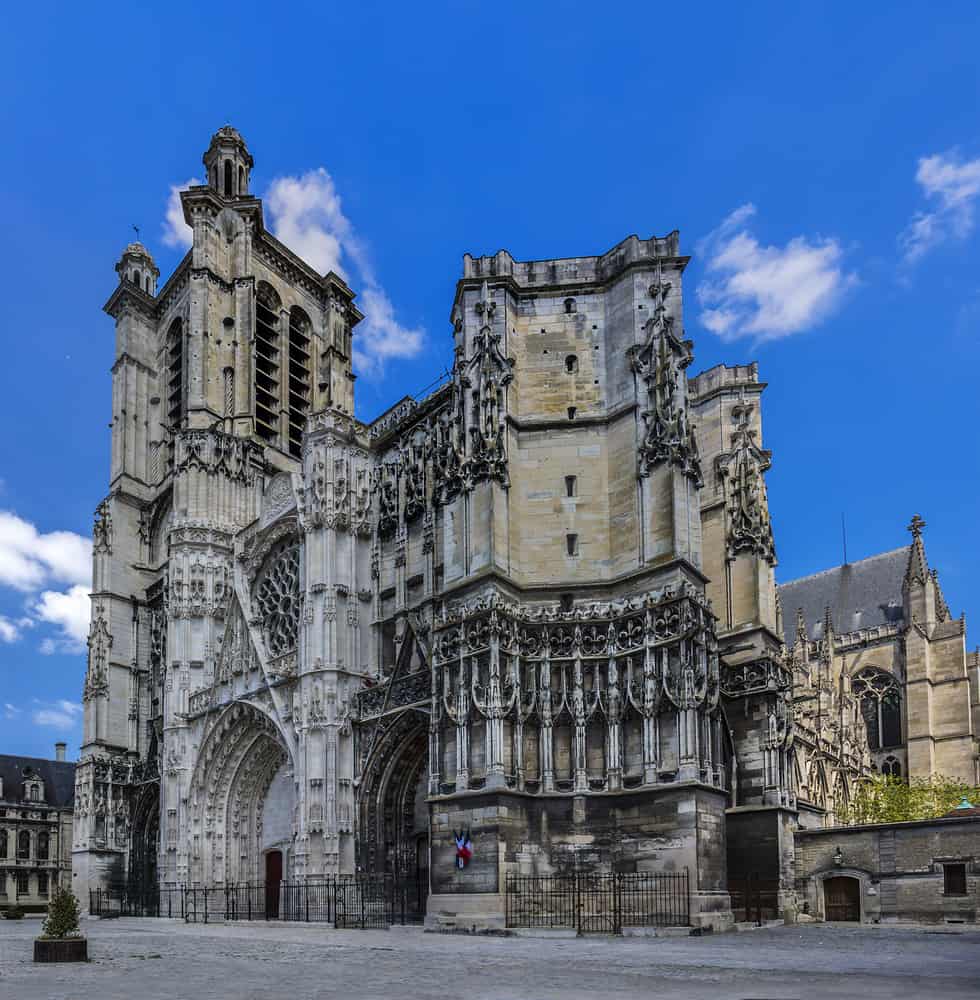 The facade bears a rose window characteristic of the 13th century. Lovely stained glass from the 13th and 16th centuries decorate its interior. A black basalt monument marks the grave of Count Henri I of Champagne. It was carved in 1792 when the count's home was destroyed during the Revolution. Relics like a segment of St Bernard of Clairvaux's skull reside in the reliquary.
The Basilique Saint-Urbain
Later, visit the Basilique Saint-Urbain, a church transitional between the old Gothic style and the light newer style filled with light and stained glass.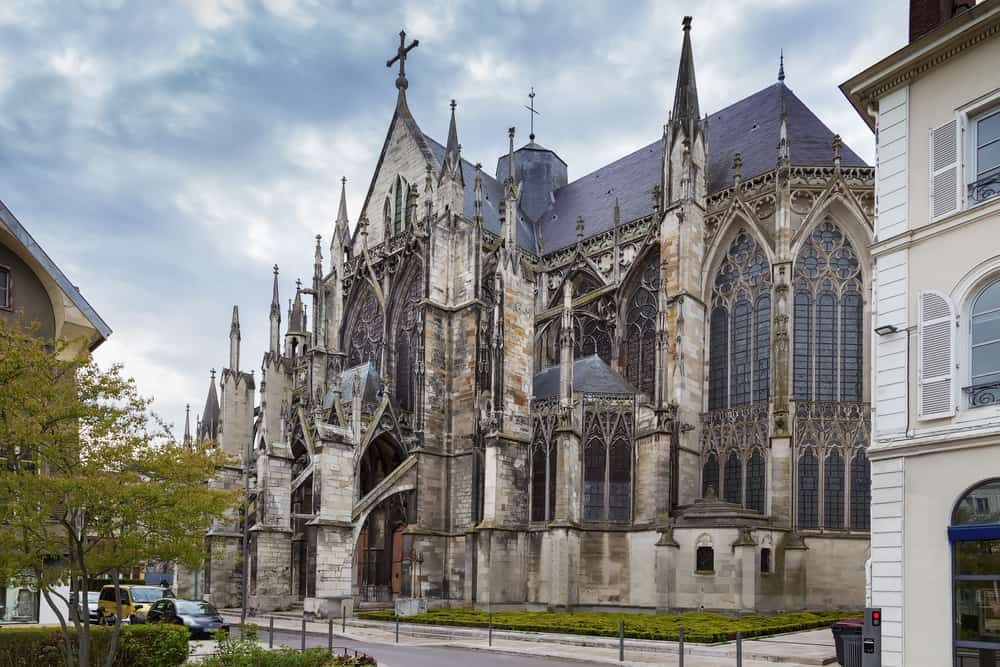 The Musée d'Art Moderne
The Musée d'Art Moderne is contained in the 17th century palace once belonging to the bishop of Troyes. In addition to its beautiful interior, the Levy Collection of modern art can be viewed here. It holds a collection by Claude Derain.
The Musée Saint-Loup
Musée Saint-Loup is housed in the former Abbaye Saint-Loup. It is devoted to natural history and archaeology. Local finds, like 5th century gold jewelry and a bronze statue of Apollo, grace its collection. You'll also find art here, with works from Rubens, Boucher, and Van Dyke.
The Maison de l'Outil
For something truly unique, try the Maison de l'Outil. Here you'll find such outsize models as a winding staircase and a globe on a swivel created by the apprentices of Compagnons de Devoir, a national craftsmans guild headquartered in Troyes.
You'll also find a lovely collection of antique tools like a bigorne, a medieval anvil.
Shopping
At the Place du Marechal-Foch, shops and cafes are flanked by the façade of the Hotel de Ville, or town hall. This is a perfect place during summer to do some people-watching, or you can try the fine textiles and clothing made in the region. Troyes has been known for centuries for the quality of its wool.
If you want to do serious shopping and you don't care as much about atmosphere, there are clothing outlets in St-Julien-les-Villas on Marques Avenue, and also Pont-Ste-Marie's Marques City and McArthur Glen. All these have an excellent selection of clothing and other objects made near and far. Several clothing manufacturers located near Troyes have outlet stores here.
Where to eat and stay in Troyes
For an atmospheric bargain, consider Les Comtes de Champagne. Faded floral wallpaper inside contrasts with a lovely inner courtyard filled with vines and philodendron. Rooms here are quite inexpensive.
You can also consider staying somewhere like the Royal or Le Champ des Oiseaux, the finest hotel in town. Le Champ is located in three 15th and 16th century houses, but has modern amenities along with its atmosphere of quaint antique Frenchness.
Whatever your budget, Troyes can suit your vacation perfectly.
Map of Troyes in France
Interesting places to visit in Champagne