Porto is on Corsica in the La Scala di Santa Regina area. Like all Corsican towns, Porto is a contradiction in many ways, a resort town surrounded by natural beauty. A place set in history but thoroughly modern.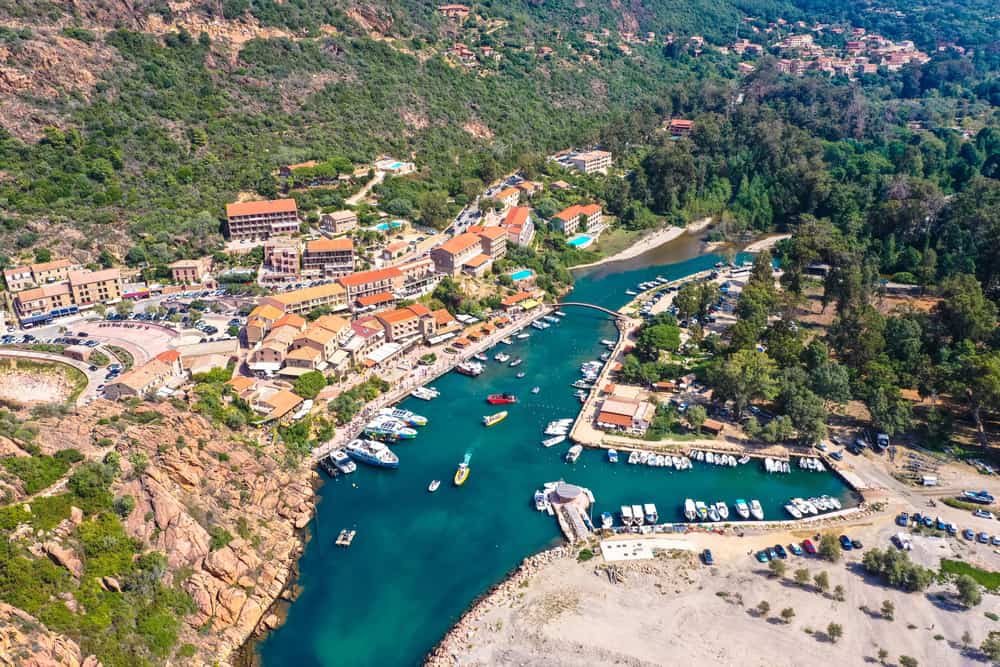 The port of Porto
Porto's main claim to fame is the small port for which it's named. Once the main attraction for the building of a fishing village, the port is now served by a boardwalk around which are studded restaurants and hotels, none of which is of great note but all of which have good views of the ocean.
Porto is a place of color, with massive pink granite mountains rising up above the town and a crystalline Mediterranean shoreline reflecting back to it in deep blues and whites.
If you hike out from the boardwalk, you will find one of the Genoese watchtowers that stud the shoreline of Corsica. The Genoese, during their two hundred year rule of Corsica, built over a hundred watchtowers to keep the shore safe from corsairs that roamed the oceans at the time.
Though Porto is pretty developed overall, this hike, surrounded by the scent of the maquis, will give you the essence of Corsica, ancient home of rebels and defenders of their homeland.
If you're in the mood for boating, daily excursions to the Reserve Naturel de Scandola are available. Also near Porto to the south on D81, you'll find Les Calanches, some of the most extraordinary natural formations in France. These jagged outcroppings of red rock seem to typify the harsh, yet attractive nature of the Corsicans. You'll see arches and stelae, even standing rock formations in fantastic shapes reminiscent of people, of animals, of surreal human faces.
If you go to Porto, you should treat it as a sort of breather. There's little to do outside of the hike to the watchtower and the trip to Les Calanches to do here, and though the restaurants and cafes are good, there are no outstanding places here.
Porto is very near Ota, however, only three miles to the west, and at Ota you can find the Chez Felix, a sort of all-in-one town hall/restaurant/transportation center. You can get hearty meals here featuring Corsican specialties like wild boar and chestnut beignets. The trip to Ota, whether you bike, hike, or drive, is scenic, with a marvelous view of the mountains and remarkable stone houses that seem to be suspended from the sides of the mountains.
You're also only nineteen miles from Calvi, known as Corsica's part of the Riviera. In Calvi you can enjoy part of a rich night life, as well as visiting excellent beaches, the historical St-Jean-Baptiste church, and the Citadelle, an ancient church. Shopping, nightlife, excellent restaurants, and dancing is all available here, while Porto is very quiet in comparison.
Map of Porto in France
Interesting places to visit in Corsica