The modern Juan-les-Pins is the resort town mirror and foil to Antibes' historical beauty – only three miles apart.
Walking the beach – if you can without stepping on sun-worshipers – you'll see thousands of vacationers. They are walking up and down the promenade or lying close to one another to sunbathe on the wide stretches of sand. Resting here during the day might be a pretty good idea, considering how much there is to do in the evenings.
Casinos, discos, and strip clubs. Even a jazz festival in July. F. Scott Fitzgerald's "Tender Is the Night" was set here in Juantibes (Juan-les-Pins + Antibes), and after experiencing the very different glamour of each, it's easy to see why.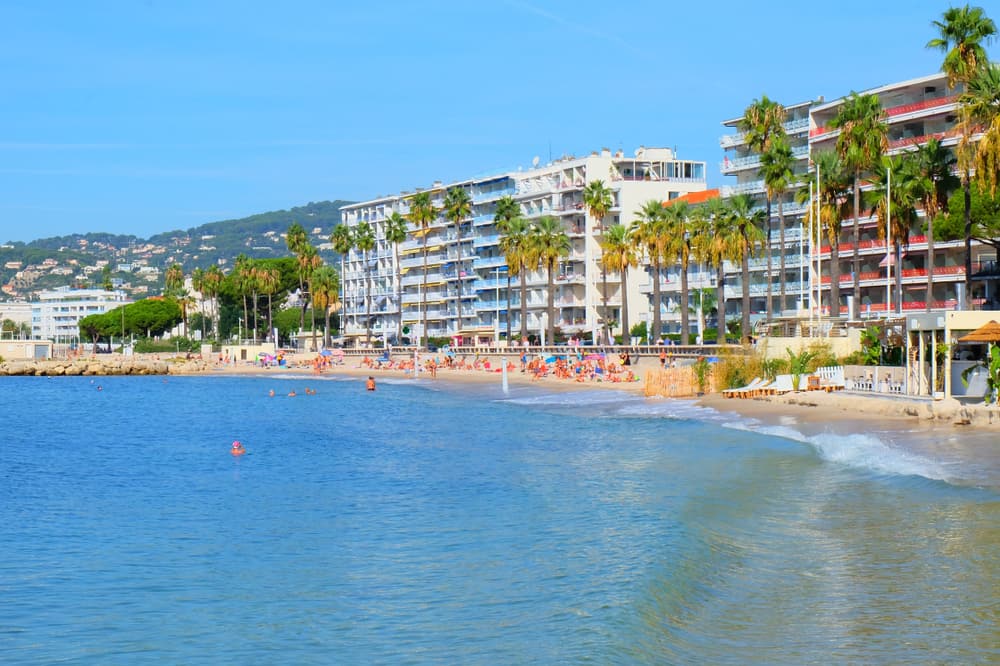 Where to eat and stay in Juan-les-Pins
There are brilliant restaurants and excellent hotels throughout Juan-les-Pins. The two best are probably Belles Rives and Juana.
Belles Rives is a landmark. It was a home away from home for F. Scott Fitzgerald and his wife. The décor is still Neoclassical, and the young set have reclaimed this hotel as one of their favorite spots.
The classic cuisine of the hotel restaurant is served perfectly. Dining on the terrace on a summer night, with the sea lapping at the shore below you and the velvet-set stars above you, is the perfect romantic evening.
Visit bellesrives.com for more information.
Juana is built in perfect 1930s Côte d'Azur style. It's been run by the Barrache family since its opening day in the 1930s. It still retains its white balustrades and striped awnings.
The pool is set in white marble, and the balconies offer a perfect view of the sunset over the red Esterel mountains. All rooms are decorated in cool pastels. It's two blocks away from the sea, but it still has its own private sand beach.
Juana's restaurant, La Terrasse, was the first home of chef Alain Ducasse. Later he's been replaced by the also-talented Christian Morisset. You'll find only the best in French and Corsican cuisine here – as well as modern décor.
Visit hotel-juana.com for more information.
For a cheaper hotel that still has wonderful atmosphere, consider Le Mimosa. It has its own enclosed hilltop garden of palms, mimosa, and tropical plants. It's a hike to the beach, but still beautiful. Try to ask for a room with a balcony that overlooks the garden for the best deal.
Visit hotelmimosas.com for more information.
The nightlife
Juan-les-Pins is all about nightlife. The Eden Casino is glassed-in splendor, with restaurants, bars, and dance clubs sharing space with the casino.
And in July, the Festival de Jazz d'Antibes-Juan-les-Pins has one of the best lineups of any jazz festival in Europe. Miles Davis and Ray Charles had their European debut performances here.
Map of Juan les Pins in France
Interesting places to visit in Côte d'Azur (the French Riviera)