Gorges du Verdon, are among the finest canyons in Europe, and have recently yielded some particularly fine archaeological finds from the blending of Cro-Magnon and Neandertal man who once lived in the area.
The road out of Grasse leads along this canyon, affording the traveler some very fine views. This is also one of the most conducive atmospheres for lavender to grow in, and its blooms perfume the air in July from the Canyon and Grasse to Avignon.
Gorges du Verdon are thirteen miles long and more than two thousand feet deep, and the Corniche Sublime follows its southern edge. This road was specifically designed to give one the best possible view of the canyon. An older road on the north face is somewhat less vertiginous and also has footpaths down from it that wind through the gorge.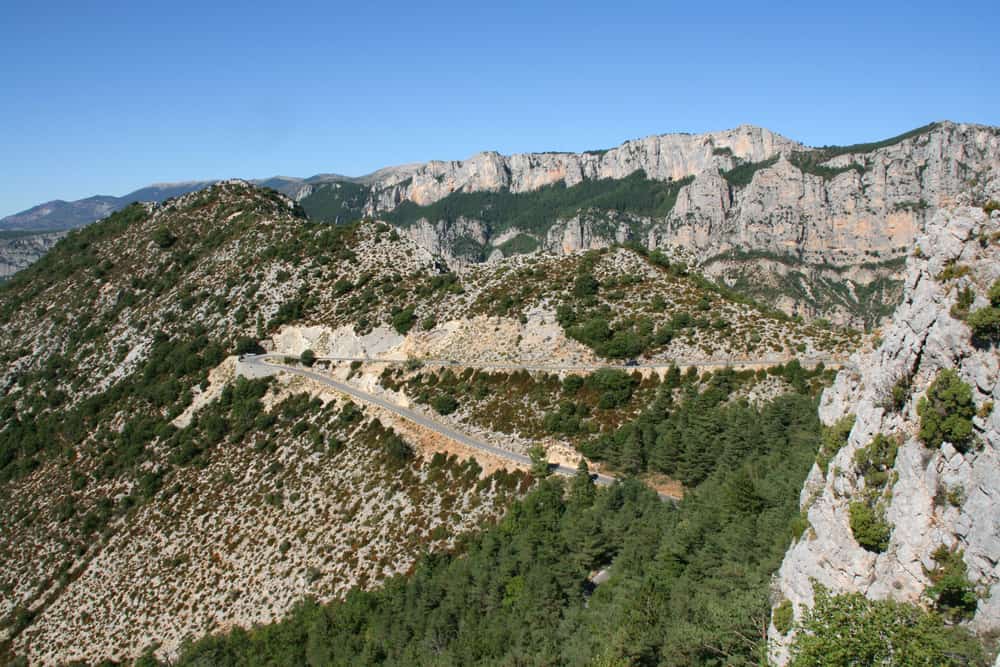 The Route Napoleon
The Corniche Sublime leading through Gorges du Verdon is also part of the Route Napoleon, taken by Napoleon on his march from Elba to try to reconquer his world.
Along the highways you'll see commemorative plaques studding the route. You'll probably find lavender-honey stands and souvenir shacks, but the signs of civilization are rare indeed – making Gorges du Verdon a nice break from being a tourist.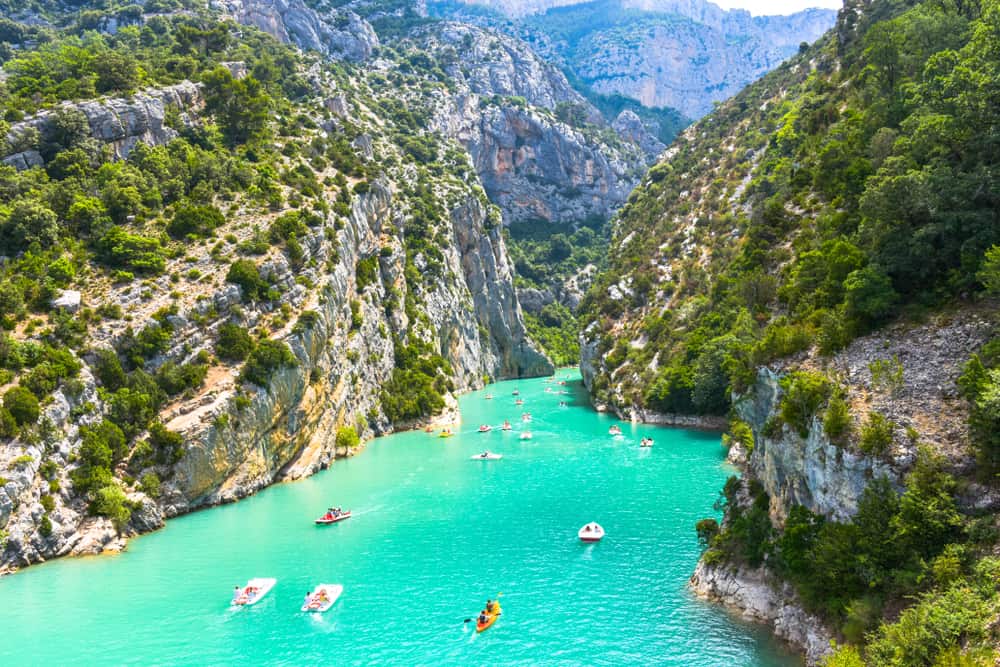 Important skeletal remains
Recent finds in and around Gorges du Verdon have created plenty of debate in the archaeological community. There may be evidence, displayed by some skeletal remains found high in the sides of the canyons and mountains in caves, that Cro-Magnon and Neandertal man not only co-existed peacefully, but may have interbred.
Childish skeletons with characteristics of both human species have been found. You probably won't find any remains in the canyon today, but for those who like archaeology and ancient history, it might be nice to gaze at the canyon and think about what may have happened here tens of thousands of years ago.
Near Gorges du Verdon
At one end of the canyon is the town of Castellane. At the other is Moustiers Ste-Marie, a tiny town with a twelfth-century church and known for its white-glazed faience.
Neither town is worthy of a great deal of notice, but Moustiers is located at the foot of a huge cliff wall. Near the top of this cliff is a gigantic iron chain, seven hundred feet long with a gilded star in the middle. This "Chain of the Star" was put up by the Chevalier de Blacas when he was freed from captivity during the Seventh Crusade. No one's certain what it meant to him, but it is still there today.
If you visit the Canyon, you would probably be wise to have lunch first in Grasse, or to take a picnic lunch with you. There is no guarantee you'll find hospitable surroundings in either Castellane or Moustiers.
Map of Gorges du Verdon in France
Interesting places to visit in Côte d'Azur (the French Riviera)