Crozon Peninsula is often described by local people as the place where the sea and the mountains meet. This description can give an idea of the beauty of this place and the amazing landscapes it shows.
This way, one of the main attraction this place offers its is natural beauty and amazing landscapes. It provides a perfect environment for visitors who wish to spend their vacations in an unforgettable place.
This area is an ideal place for those who wish to have a relaxing vacation as well as for those who wish to have fun due to the wide variety of options it offers. Those who wish to relax can easily do so by choosing a calm spot within the area and while being surrounded by beautiful beaches.
On the other hand, those who wish to spend energies might also be able to do so by choosing between many different options such as pubs, cafés, discos, surfing, bike riding, swimming, and many other sports and activities in general.
The Crozon Peninsula beaches
Due to the beauty of its beaches, Crozon Peninsula is often compared with some Mediterranean areas. This is not far from being accurate due to the fact that at some points, the beaches show soft white sands and amazing clear waters of unique blue – greenish color. These beaches are an ideal place for loosing stress and sunbathing as well as for swimming and practicing other water related sports.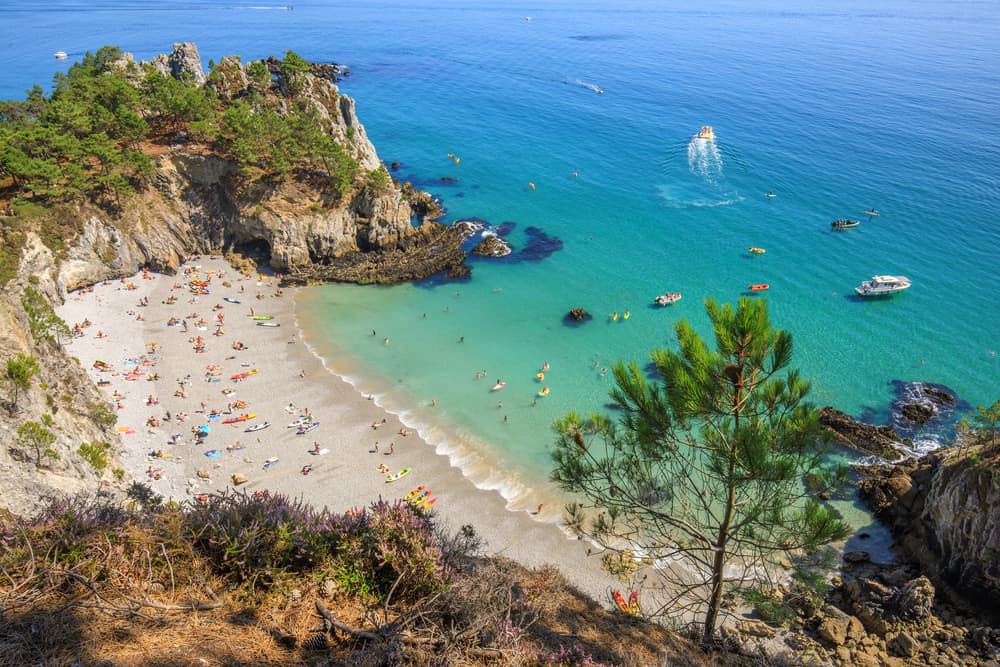 The peninsula is characterized y having several small ports and charming bays which can be seen now and then while meeting the coastline. This way, this area shows a unique personality, full of magical spots as well as several different beautiful places full of a very special charm.
Morgat
One great place to visit while being in Crozon Peninsula and its surroundings is Morgat. Morgat is a small town located in the surroundings of Crozon Peninsula and where visitors can enjoy amazing local dishes at several small restaurants. Also, those visitors who like walking could walk to the top of the Cap de la Chevre and enjoy an amazing view over the surroundings.
Map of Crozon Peninsula in France
Interesting places to visit in Brittany